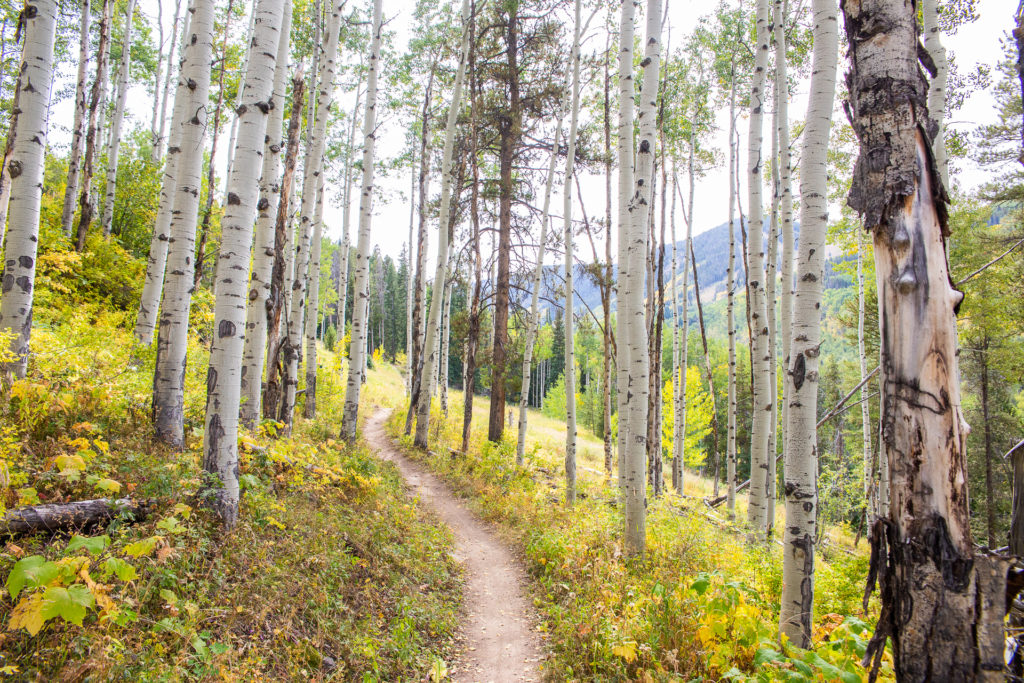 Week eight of this epic Austin to Alaska road trip meant we were nearing the end of our 69-day journey. We had made it all the way up to Anchorage and Fairbanks, driven through Canada, backpacked in Washington and Montana, and were finally almost back where we started (Denver, you may remember, was our first real stop on the drive north). But we had some serious business to attend to first. Namely, relaxing with friends in Denver and then on our own during the off-season in Avon.
Frankly, there isn't much to tell about Denver this time around. We stayed with friends from high school, another flew in to join us, and we did little besides eat together, drink just a little, and go on exactly one day hike. Not exciting, I know. But it was nice to spend some time with old friends again.
But when our visiting comrade flew back home, it meant the weekend was over and we had to go, too. But we couldn't go home yet. Mainly because we were scheduled to fly to L.A. from Denver in four days to head to Yosemite to volunteer with Parks Project (more on that in the next post). So whatever we did, we couldn't go far.
We toyed with the idea of backpacking in Rocky Mountain National Park, but to be honest, we were getting a little backpacked out. Hard to believe, I know (especially now that the trip is over and two weeks later I'm ready to hit the woods again), but it's true. Besides, we had to make sure we were prepped and ready for that trip to Yosemite that we were attending because we were media. We had research to do, and that meant internet, and batteries to charge, and that mean power. So after numerous searches on Airbnb and couchsurfing.com, we decided to head to Avon, Colorado, two hours west of Denver, and get ourselves a proper room. Normally we prefer not to pay for accommodation, but we were tired, had work to do, and felt like it was time to treat ourselves (sort of).
Don't get me wrong, this was not a vacation (we don't take vacations), but we did call it a psuedo-vacation. We were going to relax a little, enjoy some amenities, go on some hikes, but also cram as much work as we could into several hours each day. So we made a decision: we'd spend the mornings working and the afternoons playing.
We planned and researched for our trip to Yosemite, wrote posts, edited videos, sorted through photos, replied to our backlog of emails, then hiked in the aspen forests, ice skated on the outdoor rink, perused too many outdoor stores, and sipped hot chocolate on the porch, all of which we could do sans crowds because in late September, it was the off-season in Avon.
Now, the tourist guides will tell you "there is no off-season in Avon" (or Vail, or any of those other ski resort towns), but they're wrong. There absolutely IS an off-season and in the very best way. We arrived in Vail, Avon, and Beavercreek Resort, all neighbouring destinations, and were flabbergasted by the lack of people milling around the well-manicured lawns and squeaky clean pedestrian streets. It was empty, but far from dead. All the shops and restaurants were still open, the visitor centers were still manned, and most of the attractions were up and running.
The only difference? There were zero crowds, we were often the only customers in a storefront at any given time, and the ski lifts weren't operational. But you know what was? The hiking trails. And this area has plenty of them. We meandered up a series of trails through aspen forests to Beavercreek Lake one afternoon, splurged and went ice skating another, and shopping for last-minute supplies and clothing on the last. For just being a pseudo vacation, it. Was. Awesome. Probably because we haven't had a real vacation since our honeymoon 10 years ago and no longer remember what those are like (vacations, not honeymoons).
And while we've yet to visit a ski resort town during actual ski season, we're pretty sure spending a few days there in the off-season is way better.
But that could be because neither of us knows how to ski…anyone want to teach us?
Ever found the perfect destination in the off-season? Tell us about it so we can experience the magic, too! Wander on!
Alisha is a freelance writer and photographer based in Austin, TX. She loves her tiny house, vegan food and experiencing the community of travel in far away places. She's also pretty sure she's addicted to coffee. alishamcdarris.com